10 Reasons a Home Gym is Better than a Commercial Gym
Are membership fees, startup costs, maintenance fees, and additional annual charges part of your exercise life something you would like to eliminate? Going to a commercial gym may seem like the most convenient option for weight lifting, but the truth is that it is one of the most costly in the long run. Having your own gym equipment at home has many cost-saving and convenient benefits both short-term and long-term. Not convinced that having a home gym is the better option? Read these top 10 reasons why a home gym beats the commercial gym in both cost and convenience.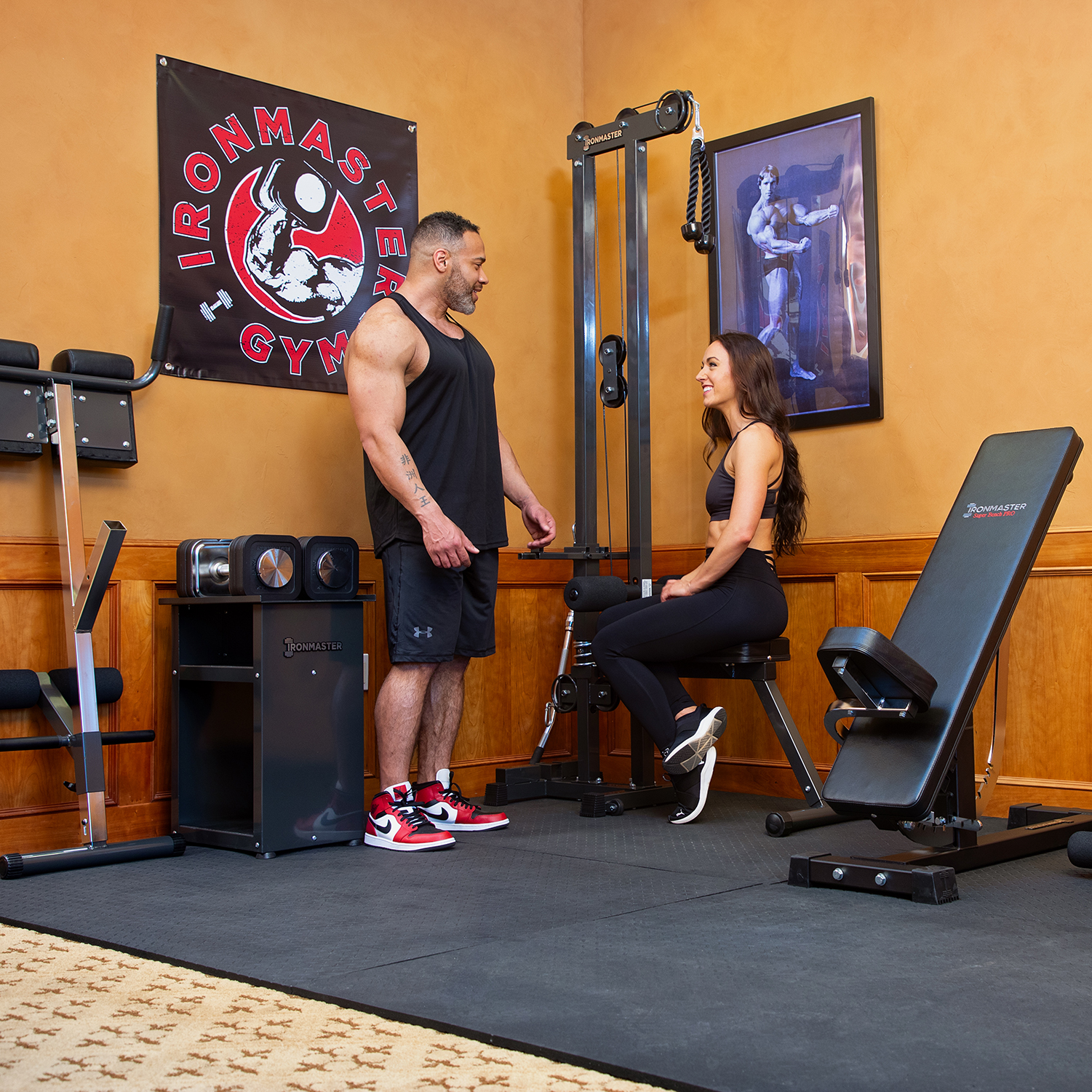 No monthly membership cost. Invest in your own equipment and save money over time.
While gym memberships advertise themselves as being affordable, the truth is that over time, your membership will cost you hundreds of dollars. In just 1 year, a $30/month membership will cost you $360 – and you don't get to keep anything. For the same investment, you can purchase an Ironmaster Adjustable Dumbbell kit to save money in the long run and get incredible results!
Your home gym is available 24 hours a day, 7 days a week.
Half the battle of going to the gym is going there. Eliminate this obstacle by working out in the comfort of your own home. Never have to worry about gym schedules and closing time – your home gym is ready for you when you are.
No wasted time traveling to and from the gym.
You can't always be so lucky to have a local gym close by. And even a short drive can cut 15+ minutes out of your day. Time spent driving to and from the gym is time that could have been used in your workout.
Never have to share equipment or wait for a station to open up.
Once your weight lifting routine starts, it can be frustrating to have to stop. Having your own gym setup at home means never having to stop for others to finish their sets again or have to adjust the machines to fit you. Your machines and equipment will always be ready and dialed in just for you.
You can grunt, scream or act however you want without embarrassment.
Sometimes that last rep requires a little noise to push out. Do so with abandon when working out at home with no "alarms" or audience to judge.
You can wear whatever you like.
One of the best things about working out in your own home gym is the fact that there is no dress code. Exercise is not about looking the part – it is about playing the part. Workout in whatever makes you comfortable without having to worry about fitting in or being fashionable.
You can listen to your choice of motivational music or any TV programming you like.
Let's be honest – you only wear headphones at the gym because you feel like you have to. Leave the wires in the dust and turn you work out music or show up to make your workout a more enjoyable and personalized experience.
You can outfit your gym with exactly the equipment you need.
It can be very overwhelming to walk onto a gym floor where there are multiple machines for multiple muscle groups. Eliminate the confusion with targeted and adjustable weight machines and equipment tailored to your workout needs.
Workout when the kids are sleeping or playing without needing a sitter.
Being a parent has its sacrifices – don't let your weight lifting routine be one of them. Exercising at home allows you to be around and available while the kids are sleeping or at home with you. No need for babysitting or paying more for gyms with childcare services. Plus, allowing your kids to see you work out and make better lifestyle choices can inspire them to also be healthy and more active.
You can show off your awesome lifestyle to your friends and make them all jealous.
Working out at home makes your gym equipment ready when you are. Committing to the process and a healthy lifestyle in your own home will bring you the type of results that everyone will notice and envy. With adjustable equipment, your weights grow with you – making them effective at every stage of your exercise journey.
While it may seem like an expensive option up front to purchase home gym equipment, the truth is that the investment will save you both time and money in the long run. A well-engineered weight machine will last you years and adjustable components make the equipment adaptable to your different routines over the course of your progress. Home gyms are always available and ready when you are and allows you to work out in the most comfortable and personalized environment available – your own home!
Are you ready to make the investment and change your life? Purchase equipment from Ironmaster's line of adjustable dumbbells, kettlebells and benches to outfit your home gym with the industry's best. Our patented technology, strong construction, and adjustable weight systems make our equipment the safest and top choice for having a home gym that does it all. Buy direct and save today!

No Comments Yet
Please log in to leave a comment.